11 Temples You Must Visit in Jabalpur Irrespective of Your Religion
Jabalpur is called sanskardhani for a reason. The people here are into spirituality, religion. I see women going to temples every morning. Even the men and youngsters are not behind. Visiting temple is an integral part of our life. We not only worship God but also have a belief in its power. Temples help us find peace in midst of all chaos.
Jabalpur is a holy place and there are many temples one can visit.
Here is a list of some must visit temples of Jabalpur.
1. Chousat Yogini Mandir-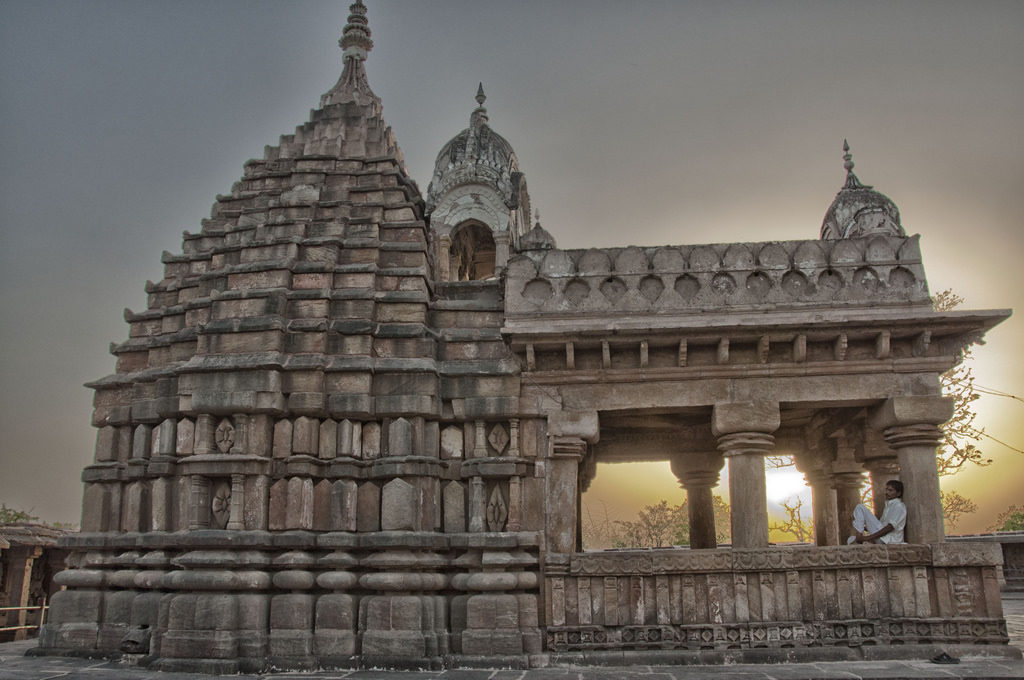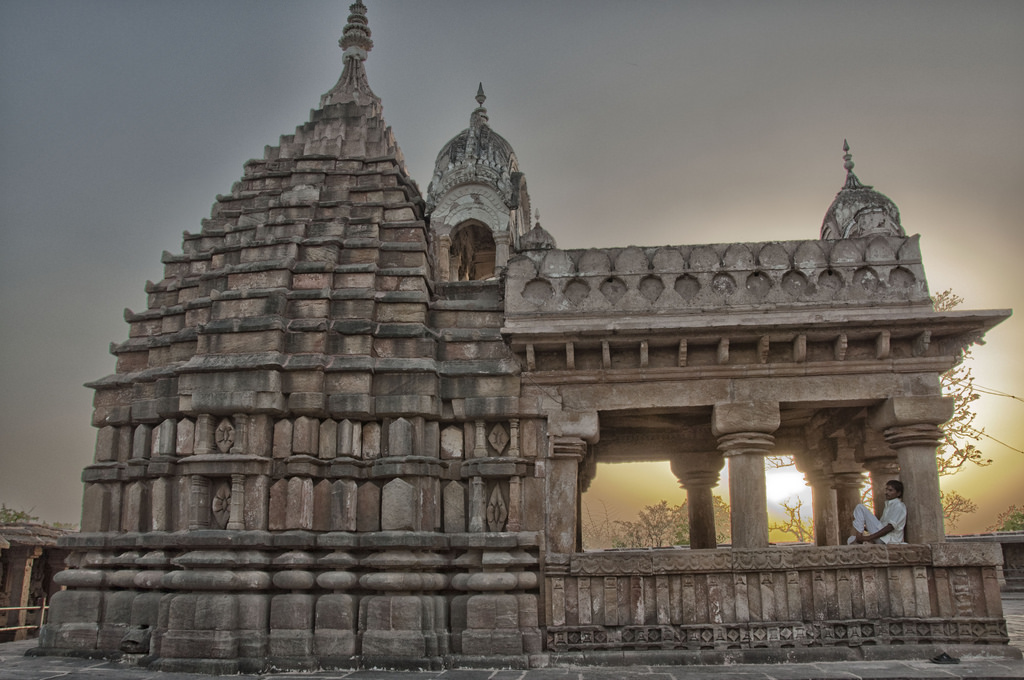 It is situated between bhedaghat and dhuadhar. Constructed on a hill, you have to climb some stairs to reach the temple. But it is definitely worth your sweat. Chousat Yogini is a temple of about 64 beautifully carved statues of Yoginis. Here, inside the main temple Lord Shiva & Parvati can be seen together riding on Nandi (bull). The main temple is encircled by 95 statues of yoginis. Plus, this temple offers you an electrifying view of the city.
2. Tripur sundari-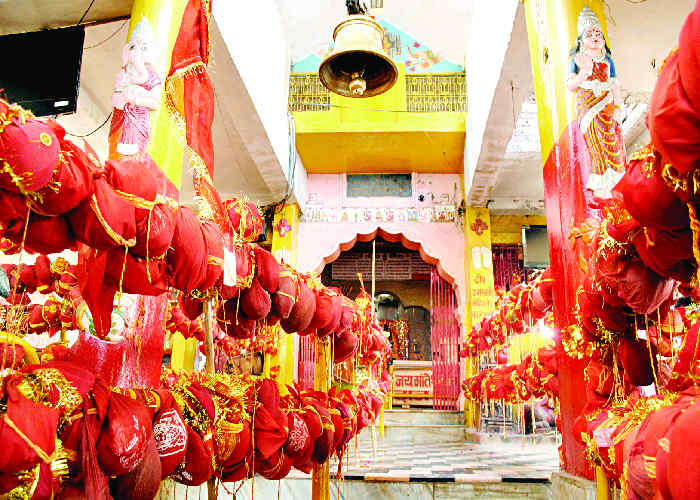 Tripur sundari is located about 12 km from the city, on the bhedaghat road in a village Tewar. It was a sacred place during kalchuri dynasty and a place of worship since 11th century and till today, it is worshipped by thousands of people. This temple welcomes people with an outstanding view on either side of the road and a colorful market. It is famous for the statue of goddesses (devi) which emerged from the ground. There is devotion in the atmosphere and is a centre of attraction for many sages and pundits.
3. Kachnar City Shiva Temple-
Kachnar city is the favorite place for devotees of Lord Shiva. The statue of lord shiva is built 76ft high under the sky. There are also replicas of 12 Jyotirlinga of lord shiva. The surroundings add more beauty to this place with lots of greenery. The perfect lighting makes it more attractive in the night. And if you are visiting this place on "shiva ratri", there are many possibilities that you may not get a place to stand because almost every Shiva devotee visit this place on that day.
4. Pisanhari ki madiya-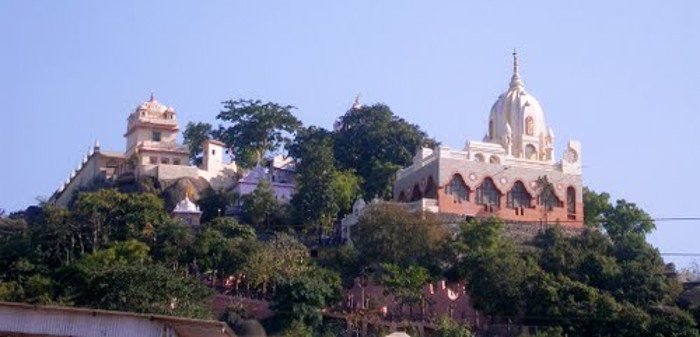 Pisanhari Jain Temple is situated at a distance of 7 Km from the heart of the Jabalpur city on the Jabalpur-Nagpur road. It was built during the nineteenth century on the top of 300 ft. high hill. There are many small Jain temples here. And also this place is one of the atishay kshetra( Place of miracle). This place feels like a small trek and the beautiful view from the top adds more beauty to it. It is said that the construction of this place was started by the hard earned money of an old woman who collected it by grinding flours. So this place is also a symbol of faith and dedication.
5. Hanumantal Jain Temple-
This temple located right on the edge of hanumantal is a historic temple. It has a beautiful architecture like a palace with Shikhar and domb. This is also one of the Atishay ksetra(Place of miracle). This temple is open for 24 hours. With a recitation of bhaktambar Strotra, one could feel a magic in the atmosphere. And a lake in front of the temple provides a beautiful view with cold breeze.
6. Gurudwara Saheb Gwarighat-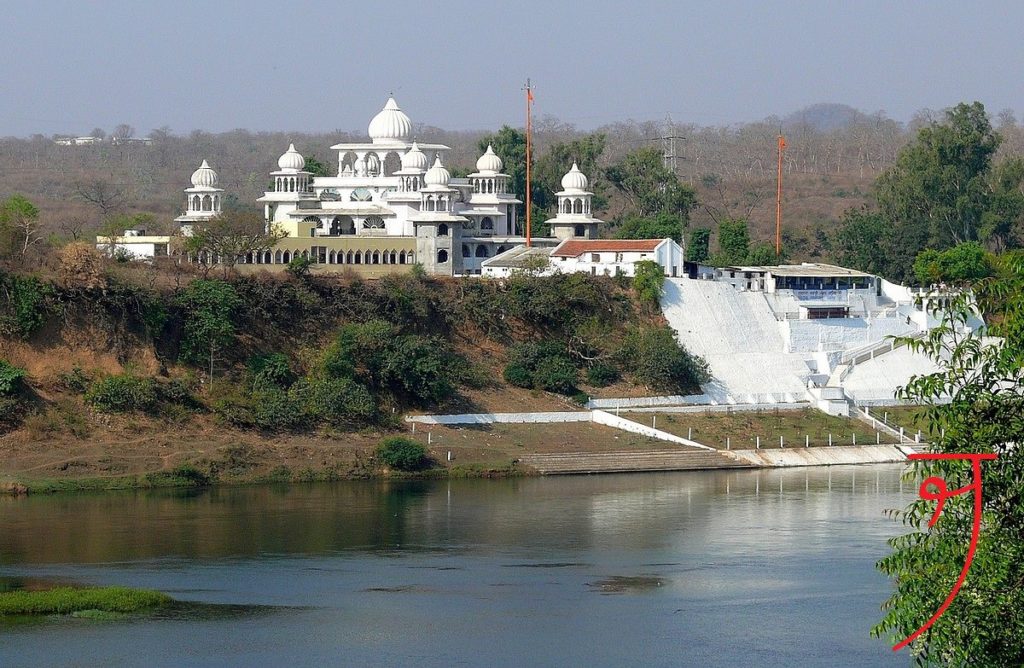 This Gurudwara is located on the side of gwarighat. One can reach there by boat easily. This gurudwara is a must go for all Jabalpuriyas and the visitors. There is an eternal peace and beautiful view of the river Narmada. Langar is served every day which generally includes chapatti and cooked vegetables.
7. Paatbaba Temple-
It is believed that patbababa temple was built during the end of 19th century when 2nd industrial revolution started the concept of mass production. During that time, Lieutenant Colonel Stanley Smith was given the orders for establishing a Guns and Carriage Factory at Jabalpur. One night, Smith saw a dream of an ancient idol of lord hanuman buried in the ground where the factory was being built. He gave orders to the builders to dig out the ground and after a massive search, an idol of lord hanuman was found. Now, not only the factory workers but many people visit here. There is a Yagya hall and a temple of shree pateshwar mahadev. It is said that if you make a wish with good heart here, it will come true. The temple is surrounded by greenery and is cleaned regularly by the temple people.
8. Sharda Devi Mandir-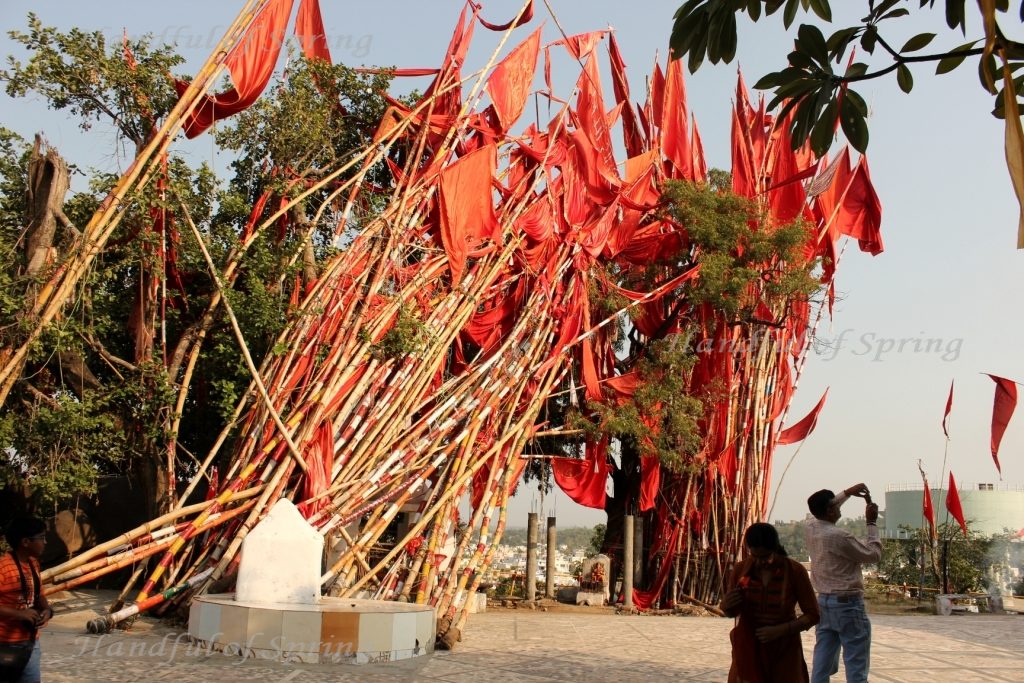 This temple, located on the hills of madan mahal, is an ancient temple. It was constructed by the gond rulers. Here, a fair is organised on Monday during the month of shravan. Thousands of devotees come here carrying a flag which they put at the feet of goddess. The fair has stalls selling balloons and toys, swings ride and much more. While coming down from this temple, there is a balance rock which is a great place of attraction.
9. Gupteshwar Mahadev Temple-
This is another holy place for Shiva devotees. It is believed to exist during Ramayana period during the venture of Bhagwan Ram, Mata Sita and Laxman to the chitrakoot region. As Mata Sita wanted to worship Ma Narmada, Shri Ram offered a chunri to Ma Narmada and made a shiv-ling out of the sand and worshipped it. Though the temple was hidden for a long time and was discovered in 1890. Been built in cave, this temple does not have a fascinating structure or something but only a small shivling which have millions of feeling and belief of people.
10 Shri Supteshwar Ganesh Mandir-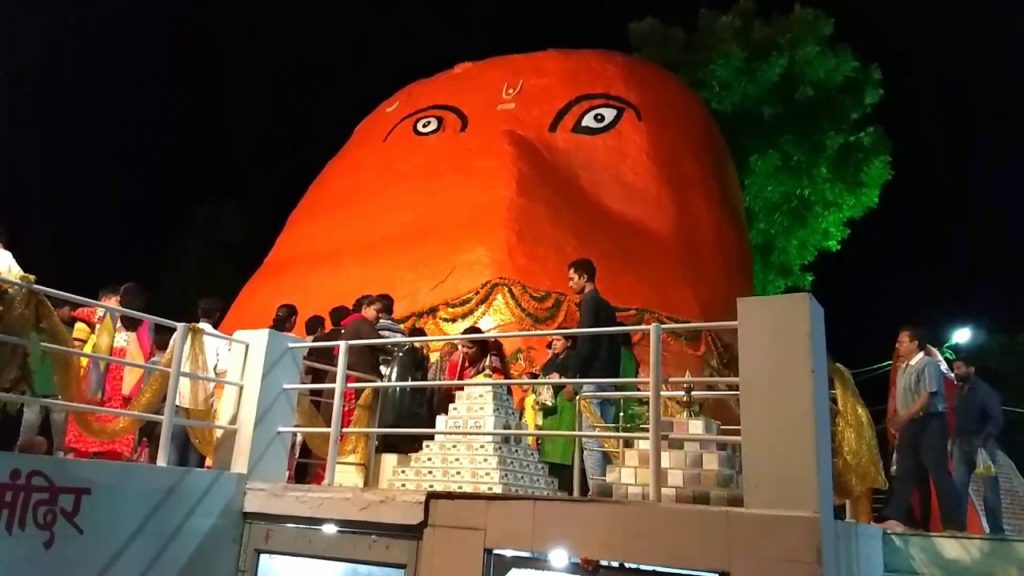 This temple, situated at Ratan Nagar road, is an old and unique temple. There is a unique idol of Lord Ganesh which is believed to have growing gradually. People come here with a clean heart and get magnified seeing the idol. The atmosphere is totally spiritual with people offering flowers to Lord Ganesha.
11 Sharda Mandir Barela-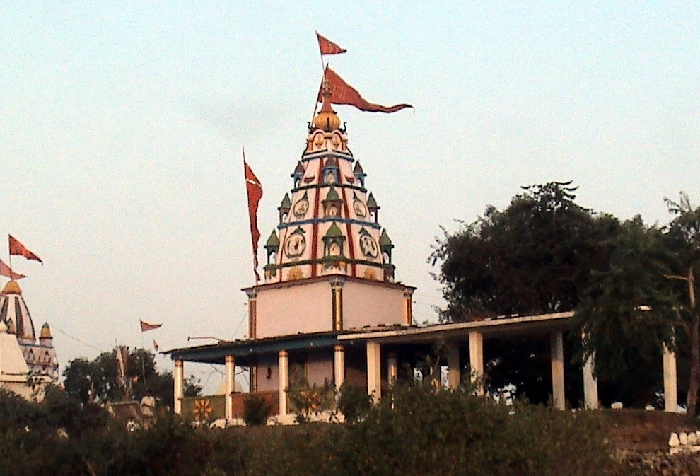 This temple is situated on a hill, receives immense crowd during the days of navratri. People gather here to worship Devi Sharda. The temple is small with simple architecture and a stunning aura. Everyone who comes here has faith in the power of Mata Sharda and bow down to her feet.
Story By: Tanya Jain